November 23rd, 2010
Kuahele, Momona Lua Kuahale
That means "Home, Sweet Second Home" if I've translated correctly. (I don't speak Hawaiian, I just have a Hawaiian dictionary.)
---
---
Click image to enlarge
---
Yes, we've finally returned to Maui. It's been a stressful 14 months since we left. Family health issues resulted in delaying our annual pilgrimage until now. When we revised our plans, we had no idea how much we'd miss being here in July and August. At first, it didn't bother us much, but as July wore into August, we gradually got more and more anxious to return. By the time we got on the plane on October 31, we were ready to walk across the continent and swim to Maui. We always knew we'd miss being here, but we seriously underestimated how much.
That's why the picture above isn't a typical bright, sunny, "Maui is Paradise" scene. Sure, the sky is grey and there was a little bit of light rain falling, but so what? It's good to be here in any conditions. When we arrived, a huge surf was breaking and there were surfers right out in front of the Nohonani. In other years, that would have been the source of a good deal of frustration, but not this time. If we don't get in a single dive (we actually don't expect to get in many) and we never get the kayak in the water (we will) we'd still be content. We needed Maui. It's already recharged us a great deal, and that's all we really want.

5690
One of the things we thought we'd miss this past summer was watching over 5690 and her nests. We've been doing that every second year since 2002, when we were first privileged to watch 5690 make a nest. This year, however, 5690 didn't show up. She  might be nesting somewhere else, but I consider that unlikely. My theory is that there has been a scarcity of honu food along the West Maui coast for a couple of years, so the females simply aren't able to build up the reserves they need before making a nesting migration.
None of the Honokowai females who we expected to nest at the French Frigate Shoals last year were spotted there, and we've not had any reports of honu from this year's list either. I suppose that it is possible that all of the tagged females we've identified over the years have simultaneously met some other fate, but I think it's more likely they're simply not ready to nest.
Masha Kai
Masha Kai's transmitter failed a lot sooner than we'd hoped. We do think that she is still in the area because she's been spotted. The person reporting this mentioned that it appeared the satellite tag was completely gone, which would be unusual but not impossible. The patch on her carapace is still visible, which is how she was recognized. We did learn that Masha Kai is a local girl, since all of the positions she transmitted were within shouting distance of the Nohonani, where the transmitter was attached.
Here's the final tracking map for Masha Kao, as prepared by Denise Parker, JIMAR/PIFSC Marine Turtle Research Specialist, Marine Turtle Research Program
NOAA, Office of Sustainable Fisheries, Silver Spring MD. Mahalo Denise, and also to George Balazs, Leader, Marine Turtle Research Program, NOAA, National Marine Fisheries Service, Pacific Islands Fisheries Science Center, Honolulu HI, and Marc Rice, Director, Science and Technology, Hawaii Preparatory Academy, Kamuela HI.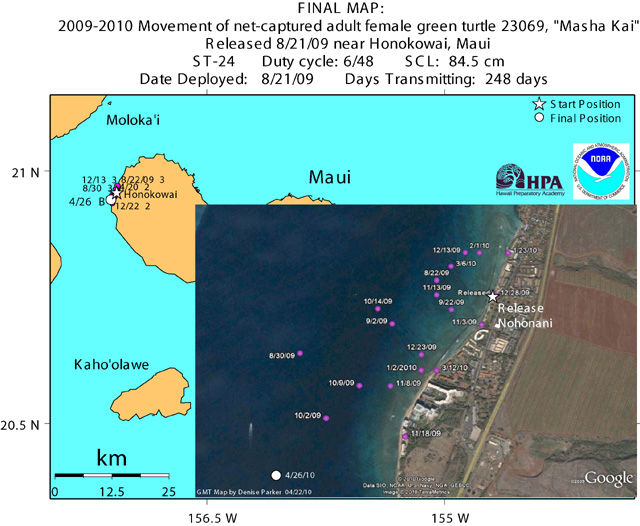 What about the honu?
Since we arrived over three weeks ago, we have not dived, and we have only managed two kayak trips. There are several reasons for this, only part of which is the water conditions at this time of year. The fact is, we had several days in a row of excellent conditions (unexpected at this time of year) but other reasons kept us dry. We intend to change this but until we do, we don't have much to report about the honu, and of course no pictures or video at all.
We can say, based on shore observations, that on some days there are a lot of honu about, and on others, none at all. We haven't seen one haul ashore to bask yet, although we know that the week before we arrived one honu had crawled up onto the Nohonani beach three or four times. We have hope.
Remembrance Day/Veteran's Day
One thing we did do, and which I am eager and might I say, proud to report, is honour the veterans on Remembrance Day.
This is the first time either of us has been outside Canada on November 11th. In Canada, November 11 is called Remembrance Day, and it is a day to honour the veterans of all wars, especially those who dies in the service of their country. There are remembrance ceremonies in every community, complete with the laying of wreaths at War Memorials and Veteran's Cemeteries, accompanied by Canadian Armed Forces, Royal Canadian Legion, and Cadet Corps Honour Guards. For weeks leading up to November 11, The Royal Canadian Legion sells poppies, and by the time Remembrance Day arrives most Canadians are wearing one. It is a solemn and powerful occasion.
As November 11 approached here, we wanted to observe and perhaps participate in the ceremonies to be held here. We were baffled to discover that there weren't any! We couldn't even find a single poppy to wear. Apparently, in the United States most ceremonies honouring veterans take place on Memorial Day, which is in May.
In searching for mention of any ceremonies, we discovered that the Veteran's Cemetery on Maui is in Makawao, so we drove up there (it's on the slope of Haleakal for those who don't know) to visit and get a feel for the place, and to see if there might be something planned that wasn't posted somewhere on the net. We found it to be a beautiful, peaceful, and moving place—but there was no indication that there would be anything special happening on November 11. We agreed that we would do something ourselves.
Since we couldn't find poppies for sale on Maui, we decided to make our own. It took a bit of searching and some creative thinking, but we were pleased with the results.  We made a video of the process, so you can judge for yourselves:
At 11:00 AM November 11, we were back at the Makawao Veteran's Cemetery with our homemade poppies.
Lest we forget.
For Ursula's blog on this, see MississaugaWatch: CANADIANS PREPARE FOR MAUI REMEMBRANCE/VETERANS DAY 2010: NO POPPIES?… MAKE YOUR OWN!
Future updates
I'm embarrassed that it has taken so long to post an update here. Unlike past seasons, I will not attempt to make weekly updates, but I do promise to post anything new and interesting. Turtle Trax is in dire need of a major overhaul but I have not been able to devote much time to it over the past year, and I can't predict when I will be able to do it.
Comments