October 19th, 2009
The background
Masha Kai is a female honu who was captured, given a satellite tag, and released at Honokowai, West Maui, on August 21, 2009. The video below is re-posted to provide you with some background information. If you want more on this story, read my last post from Maui for 2009.
Latest tracking maps
Two more tracking maps have been released. Masha Kai continues to remain close to her release point at the Nohonani. If you are staying at any of the West Maui condos between Honokowai Park and Pohaku Park (S-Turns), you have a chance of spotting Masha Kai. She's easily recognized by the transmitter and antenna mounted at the top of her shell.
---
---
Click image to enlarge
---
As of September 21, 2009
As of October 12, 2009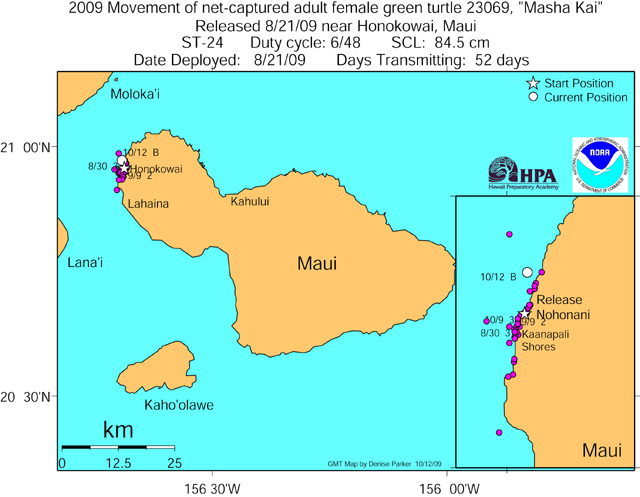 Honokowai's missing Matriarch
---
---
Click image to enlarge
---
For personal reasons, I've been thinking about matriarchs a lot lately. Inevitably, this led to thoughts of Tutu.
We'd seen fewer than a dozen honu before we met Tutu in 1990. She carried tags so we knew she was a nester. Back then, she was the largest honu we'd ever seen. She felt old to us so we called her "Tutu," Hawaiian for grandmother. Later we discovered that we'd done her a disservice: Tutu was a relatively young adult female. Her first recorded nesting season was just two summers before, in 1988. Since female honu don't begin laying eggs until they're 20 or older, she might not be a grandmother even yet.
By the time we learned this, we'd already decided that Tutu was the Matriarch−the archetype honu mother. For the next 15 years, we could depend on finding her either at Honokowai or at the nesting grounds in the French Frigate Shoals. In 2006, however, she was not seen at either location. Since then, she has been missing. We kept a sharp eye out for Tutu throughout the summer of 2009, but had no luck. We put her tag numbers on a watch list for the people monitoring the nests at East Island, but as far as we know they did not record her presence. We don't know her fate, so we like to think she is still living somewhere nearby, just not within our diving range. Her absence from the nesting grounds is disturbing, however. We are forced to consider the possibility that Tutu might be dead.
Some Matriarchs are gone forever. We don't know that Tutu is one of them. Regardless of whether she is still alive, however, for us Tutu is and will always remain special: the Matriarch of Honokowai. Aloha nui loa Tutu, wherever you are.
Comments