The Algae of Honokowai
---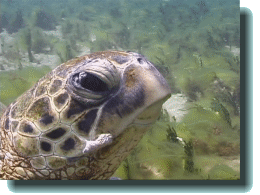 When we met Puka in 1998, he was tumor-free. This is Puka two summers later.
---
75K JPEG
---
The waters off Honokowai, West Maui, Hawaii are home to over 200 Hawaiian turtles, both green turtles (honu) and hawksbills ('ea). We have been diving with this ohana (Hawaiian for "a group with a shared experience") since 1988, and Turtle Trax tells the story of their battle with a tumour disease called fibropapilloma.
If it's true that you are what you eat, devoting a part of Turtle Trax to the turtles' foods is important. Since eating seaweeds comprise the vast majority of our foraging observations, we deal with underwater Honokowai's plant species first.
We are laypeople and as such we have no expertise in phycology. We are, however, highly motivated, careful observers. The following information is as accurate as we can make it.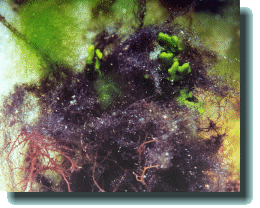 Lyngbya majuscula and Cladophora sericea grow on a stalk of Halimeda incrassata. On the left, a sprig of Hypnea musciformis has snagged onto the Lyngbya. These are the four dominant marine algae at Honokowai.
---
73K JPEG
---
In the paper, "The potential role of natural tumor promoters in marine turtle fibropapillomatosis" Landsberg et al. have suggested there is preliminary and provocative evidence linking high concentrations of dinoflagellates (specifically Prorocentrum) to a high prevalence of fibropapilloma.
One of the sites these authors sampled for these organisms was our dive site--the turtles' home.
Early findings suggest the honu might be suffering from chronic exposure to okadaic acid produced by the dinoflagellates living in the seaweeds that the honu use for food. Hence we grew interested in foraging and seaweeds.
Recent ecological history
Since 1989, Honokowai has had a series of Cladophora sericea algae blooms--six that we've documented, with the worst in 1991. Honokowai's environment has also been degraded by run-off events, the most serious in July 1993, when red mud from the West Maui Mountains turned the coastal waters red. In some areas, silt collected in layers 10-15 cm deep.
Also, to the south and within 600 m of the shore, a sewage treatment plant pumps over 11 million liters per day of effluent containing high loads of phosphates and nitrates into injection wells (W. Wiltse, pers. comm.).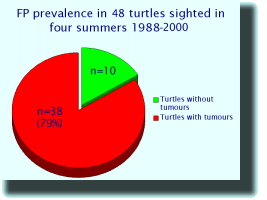 Living at Honokowai dramatically increases a honu's chance of contracting fibropapilloma tumours
---
19K GIF
---
Although no one has shown a direct connection to these onshore aspects, it is interesting that over the years, West Maui has gotten considerable attention because of repeated seaweed blooms. Studies commissioned in the mid-90's by the West Maui Watershed Management Project (1996, 1997) confirmed that the Honokowai ocean is high in nutrients, and several anthropogenic culprits were implicated.
It is within this setting that we have been observing fibropapilloma disease, or FP. Distressingly, 59% (n=248) of the turtles that we have sighted at Honokowai from 1988 to 2000 had FP. If we count turtles seen in at least two different summers, the rate rises to 73% (n=129). If we stretch residency to four years, the FP prevalence increases to 79% (n=38).
Conclusion: if you're a turtle, it's not healthy to live at Honokowai.
This section of Turtle Trax catalogs the honu's food--that is, what we've observed them eating. Coincidentally, some of these plants also grow in nuisance proportions, piling up on the beach or collecting in underwater depressions forming vast mats of algae.
Beginning almost immediately after we prepared this summary, the algae conditions at Honokowai began changing. Today, rather than an abundance of algae, our dive site is a virtual desert.
We are Canadians who have resided in Honokowai, West Maui, for two months of every year since 1987, usually July and August. Back in 1991, we appeared before the Maui County Public Works Committee to report on the extent of a massive Cladophora bloom that was affecting the beaches and nearshore underwater habitat of large parts of both West and South Maui.
Now, twenty-two years later, we wish to provide an update--good news, actually--and to pose a question, but first, a summary of the history. The first algae blooms were in 1989, 1991, and 1992. These involved both Cladophora and Hypnea. In 1989 and especially 1991, Cladophora wreaked massive damage to West Maui reefs. The slimy green ropey threads snagged on corals and slowly choked them to death. In particular, the coral species called antler coral (Pocillopora eydouxi) was virtually wiped out in our dive area at Honokowai. Hypnea, however, was always present in those years and we were convinced that it was a permanent blight. Cladophora returned with large blooms in 1998 and 1999, and to a lesser extent in 2000. Hypnea levels remained high enough to make some beaches unpleasant.
Then, beginning in 2001, the Cladophora vanished completely and Hypnea slowly retreated as well. By 2005, Hypnea seemed to be completely absent from West Maui beaches. This would seem a good thing, and indeed for beach users and corals, it probably is. Today, we are happy to report that corals are making a remarkable recovery. Given the reported slow growth of these species, we're frankly surprised at how our dive site is busting out in cauliflower meandrina corals.
That said, however, underwater Honokowai has become relatively devoid of not just these algae, but most species of limu. The resident sea turtles, once the beneficiaries of the algae blooms that plagued humans, now have a much harder time finding algae to forage. The wonderful recovery of the Hawaiian green turtle population has resulted in a significant increase in their numbers, but the decrease in their food supply poses an interesting new puzzle to ponder, which brings us to our question: What happened to the algae blooms?
The Algae
Cholorophyta (green algae)
Cladophora sericea
Nuisance blooms of Cladophora sericea occurred in 1989, 1991 and 1992. This algae was almost completely absent for several years, until it began blooming again in 1998, 1999, and 2000.
Cladophora sericea is described by Russell et al. as follows:
"...a delicate pale green filamentous algae [that] occurs in small amounts with other algae or in abundant loose strands (10-100 cm long). It became exceedingly abundant on leeward reefs in Maui 10 years ago and sporadic blooms are common. C. sericea is now more common in green turtle samples than in the past. Cladophora species tolerate nutrient pollution, but its abundant presence is an indication that no heavy metal pollution is there."
Of all the seaweeds, it is Cladophora sericea that poses the greatest threat to the corals in our area. As it drifts in the water column during strong current days, the Cladophora snags on fingered corals like Pocillopora eydouxi or P. meandrina and can literally smother them.
We have observed turtles eating Cladophora, but we don't know if they would select it given a choice. That's because Cladophora in bloom clings to everything, including their regular forage.
Halimeda incrassata
Underwater Honokowai has vast fields of Halimeda incrassata beds. These calcareous green plants begin growing in about 6 metres of water and work their way seaward, eventually stretching beyond our "air range" at 20 metres.
According to William H. MacGruder, Halimeda has developed a successful strategy. In his book Seaweeds of Hawaii he writes:
"Due to the nature of its holdfast, this is one of the few seaweeds that is able to anchor itself in deep sand as well as to hard bottoms. It accomplishes this through a sediment-filled bulbous mass of rhizoids that is embedded in the sand."
The abundance of H. incrassata at Honokowai is stark testimony to how well this scheme works.
We've seen honu eating Halimeda--they crop the very tips of the plants in a delicate nipping motion. It is not clear why they do this, since Halimeda is a poor source of nutrients for turtles.
Honokowai is also dominated by two new arrivals--exotic seaweeds. One, Acanthophora spicifera, was reported growing at Honokowai by Balazs et al. (1987) as early as 1985, and grows on rocky flats anywhere from 3 to 12 metre depths.
Acanthophora spicifera is described by Russell et al. as a plant with "many short spiny fragments and many short fragile branches... The branches have crown-shaped tips with tight clusters of pointed projections."
Russell et al. continue:
"A. spicifera occurs in large (10-20 cm) loose clusters of wiry, spiny thread-like branches. They attach to objects in the sand... This algae was introduced from Guam in 1950-1952."
Turtles are frequently seen eating A. spicifera. This is particularly true of the younger, smaller honu.
Rhodophyta (red algae)
We have documented that the other "import", Hypnea musciformis, had already established itself by 1989. By 1992 it was piling thick and deep on our beach or collecting in purple scratchy mats in the shallows.
The plant itself is quite beautiful--a bushy, red-purple presence that harbours many creatures (tiny fish and invertebrates) in its branches. Out of control, Hypnea musciformis is a blight!
Russell et al. write:
"H. musciformis usually occurs as an epiphyte on other algae in shallow water across the reef, attaching by means of its hooks. It was introduced to Hawaii from Florida in 1974. It sometimes forms massive algal blooms on Maui."
Spyridia filamentosa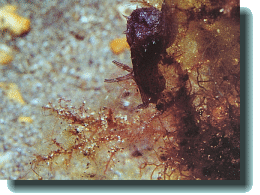 The sea hare Stylocheilus striatus crawls on a sprig of S. filamentosa
---
63K JPEG
---
Spyridia filamentosa in particular has been identified by Landsberg et al. (1999) as being high in okadaic acid-producing dinoflagellates called Prorocentrum. This is of interest because okadaic acid is a known tumor promoter in lab animals.
Underwater at Honokowai, Spyridia is abundant on reef flats in the 7 to 12 metre range.
Russell et al write:
"S. filamentosa occurs near shore in the warmer shallow portions of the reef. When collected it is a pale pink, fuzzy, entangled, finely branched mass, often with a lot of epiphytic diatoms on it (which adds a light brown tone.)"
The authors point out that this seaweed "is not easily confused with other species."
Melanamansia glomerata
We only took notice of M. glomerata in 1999 when we saw Keoki (a Hawaiian hawksbill) eat some of this material. We managed to grab a sample, return it to shore, and identify it.
During Summer 2000, one of our main goals was to document more green turtles as they were foraging. To some extent we were successful. Several times that summer, we'd videotape turtles foraging in the 12-17 metre depth as their beaks clamped down on something plant-like and lumpy.
This time we realized the rock fuzz these turtles sometimes mysteriously targetted was in fact Melanomansia. Because the plant was often unrecognizable--coated with silt--we had previously concluded the turtles might be swallowing rubble, to aid in digestion perhaps.
Once the material was shaken, however, the deep purple leaves became apparent, and we realized this was the same material that the hawksbill had targetted the summer before--and many other honu before that.
It's quite possible that larger honu--adults that prefer feeding in deeper water--eat large quantifies of Melanamansia glomerata.
Russell et al. write:
"M. glomerata occurs as globular masses on the mid- to outer portions of the reef, under overhanging coral rock, in shaded, dark places, in deeper water (1-4 m depth)."
Cyanophyta (blue-green algae)
Lyngbya majuscula
Russell et al. write:
"Lyngbya majuscula is very common in green turtle samples and it can form large tangled black hair-like masses on other algae."
Honokowai has always had more than its fair share of Lyngbya majuscula. Ever since we began diving here--as early as 1989--we noticed (and sometimes complained about) a "brown fuzz."
This brown fuzz is actually hair-like and can look like the stuff you see atop a baby's head; however, it can also grow to several centimetres long, either as an individual plant or as part of a community algal mat.
Over the winter of 1999-2000, we found an intriguing reference to Lyngbya majuscula: an abstract from Osborne et al., Human Toxicology and Epidemiology of the Marine Blue-Green Alga Lyngbya majuscula. They write:
"Lyngbya majuscula is a filamentous blue-green alga with worldwide distribution throughout tropical and subtropical regions... Of the over forty unique biologically active chemicals isolated from this species, three toxins, debromoaplysiatoxin, aplysiatoxin and lyngbyatoxin A have been found to be the major cause of dermatitis. These three toxins are all tumor promoters, binding to phorbol esters receptors leading to the activation of protein kinase C."
Tumor-promoting toxins are of great interest to us. Plants blooming in great profusion that might harbour such toxins demand considerable attention on our part.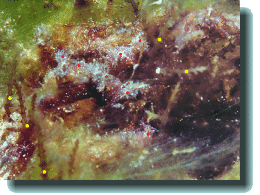 Seven sea hares (red dots) forage for L. majuscula among strands of Acanthophora spicifera (yellow dots)--traditional turtle forage, especially for young turtles. The green filamentous algae in this image is Cladophora sericea
---
66K JPEG
---
Such large amounts of Lyngbya majuscula also afford us the opportunity to document the abundance of Stylocheilus striatus--a sea hare.
Does the Lyngbya here contain toxins? Do the sea hares, by feeding on the Lyngbya, acquire the toxins?
Certainly our observations confirm that the sea hares collect in large quantities in Lyngbya plants (their preferred food). Throughout the summer and at various depths we have shaken Lyngbya plants to determine the number of sea hares hidden in this algae. We found S. striatus in abundance. It seems likely that if turtles feed on Lyngbya during the height of the Lyngbya blooms, they consume significant amounts of these sea hares as well.
We just don't know what affect this might have should the Lyngbya at Honokowai be packing toxins.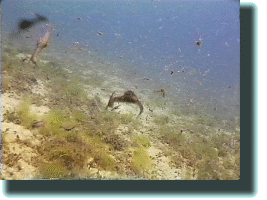 A "sea hare rain", which occurs at least once a summer, features hundreds of thousands of S. striatus floating in the water column and collecting on the sea bottom
---
52K JPEG
---
Another thing we've noticed is that eventually the sea hares triumph and manage to eat back the Lyngbya in an area until few plants can be observed. When this happens, however, grabbing any amount of Cladophora and shaking that will reveal a dozen or more sea hares.
Also, at the height of a sea hare "rain", when hundreds of thousands float through the water, and many more hundreds of thousands crawl along the sand forming writhing brown rivers, every marine plant plays host to these hares. This suggests that during such times, green turtles consume impressive amounts of these invertebrates whether they find them palatable or not.
Future considerations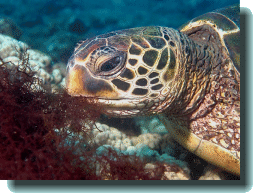 Limu, a honu named for her eating habits, contemplates another mouthful of H. musciformis. Note the beginnings of a tumour in the posterior of her eye
---
62K JPEG
---
Our opening adage, "You are what you eat," therefore leads to many questions. What marine plants do the green turtles of Honokowai eat? We have only a vague idea of that. In what proportions? No one knows. What concentrations of okadaic acid-producing dinoflagellates are on the various plants? No one knows this either, but we're sure the dinoflagellates are there.
Is the food that honu eat making them sick?
No one can tell us. Not yet, anyway.
Studies on the dietary habits of green turtles will be one of several research thrusts over the next few years within the Hawaiian Islands. George Balazs and his team of investigators hope to determine what role, if any, certain algae might play in the tumour disease, fibropapillomatosis.
Research continues--and we're convinced that one day they will find out.
LITERATURE CITED
Landsberg, J. H., G. H. Balazs, K. A. Steidinger, D. G. Baden, T.M. Work and D. J. Russell. 1999. The potential role of natural tumor promoters in marine turtle fibropapillomatosis. Journal of Aquatic Animal Health. 11:199-210.
Magruder, W. H., and J. H. Hunt. 1979. Seaweeds of Hawaii. 116 pages. The Oriental Publishing Company, Honolulu.
Russell, D. J., and G. H. Balazs. 2000. Identification Manual for Dietary Vegetation of the Hawaiian green turtle Chelonia mydas. NOAA Technical Memorandum NMFS NOAA-TM-NMFS-SWFSC-294. 49 pages
Comments regarding the manual Identification Manual for Dietary Vegetation of the Hawaiian green turtle
For people interested in studying the Hawaiian green turtle, this manual is not only a Must-Read but a Must-Have. The document is designed to "assist sea turtle biologists and other non-phycologists in the identification of food items contained in the gastrointestinal tract of green turtles (Chelonia mydas) sampled in Hawaii."
Its usefulness, however, is not limited to sea turtle biologists and "non-phycologists." This manual is an excellent seaweed/algae identifier and comes complete with meticulous drawings of each type of marine plant discussed.
The good news is the authors plan to expand their work and their focus. They write:
Future plans for expanding this manual

Plans are being made to expand the coverage presented in this manual to include additional pages describing more of the primary marine food species as they appear in green turtle crop/stomach samples, along with a summary of the percentages they represent as food for green turtles, locations where green turtles are grazing, and dates. An additional section will be included describing the freshwater and marine algae identified from scrapings taken from sea turtle skin and identification tags affixed to flippers.
Special thanks to George Balazs and the US National Marine Fisheries Service for producing this manual and for making it available to interested parties--and for the very special support he generously provides.
---

Who's Who Underwater at Honokowai

Table of Contents
Last modified 13/08/14
Send comments or corrections to webmaster@turtles.org