Remote interactive digital imaging: implementation of a SeaTurtleCam system in the Hawaiian Islands
In press. Proceedings of the Twentieth Annual Symposium on Sea Turtle Biology and Conservation, February 29 - March 4, 2000, Orlando, Florida.
---
George H. Balazs1, Marc R. Rice2, Peter A. Bennett3 and Daniel Zatz4
1National Marine Fisheries Service, Southwest Fisheries Science Center, Honolulu Laboratory, 2570 Dole Street, Honolulu, Hawaii 96822-2396, USA
2Hawaii Preparatory Academy, 65-1692 Kohala Mountain Road, Kamuela, Hawaii 96743-8476 USA
3Turtle Trax, www.turtles.org, 24 Reid Drive, Unit 3, Mississauga, Ontario, Canada L5M 2A6
4SeeMore Wildlife Systems, www.seemorewildlife.com, 7915 Silverton Avenue, Suite 317, San Diego, California 92126
---
A NEW WAY TO VIEW SEA TURTLES
A strong motivation exists amongst many of us to observe and photograph sea turtles in the wild for research purposes. These activities often carry with them the desire to communicate to others what we have been fortunate to see and learn about these amazing animals. However, there are practical limits to the amount of time that can be spent in the field. Also, the potential influence of our direct presence on the turtles is always a consideration. In order to expand our field of vision over the horizon, using new viewing technologies, the world's first camera system with real-time video linkage to the Internet is being implemented to watch turtles in the Hawaiian Islands. We predict that this network will usher in exciting new approaches to research, monitoring and conservation education.
The initial deployment of what we call the Hawaiian SeaTurtleCam System will take place shortly at Turtle Lagoon on the the island of Hawaii. Terrestrial basking by juvenile and subadult green turtles commonly occurs along this out-of-the-way lava rock shoreline, making it an ideal setting for remote imaging (Balazs et al., In press; Harrington et al., In press; Rice and Balazs, In press; Rice et al., In press). Placements of other portable cameras are also planned to watch turtles foraging in near shore habitats, and at underwater sites used for resting or visited by turtles for cleaning by fish. In addition, we intend to install infrared and visible light cameras on an existing 15 m pole at 5-hectare East Island, French Frigate Shoals. These cameras will transmit digitized signals to orbiting satellites for relay to researchers in Honolulu and viewers worldwide. We will use the images to quantify seasonal nesting and basking by migrant green turtles at this important but isolated rookery in the Northwestern Hawaiian Islands (Wetherall et al., 1998).
The present abundance of green turtles throughout the Hawaiian Islands, the relative tameness of the turtles, and the special behaviors they exhibit (Balazs, 1996) afford an array of opportunities for remote imaging research, as well as teaching and public viewing on the World Wide Web. To pursue these objectives, a working partnership has been formed involving the Hawaii Preparatory Academy, SeeMore Wildlife Systems, and the Marine Turtle Research Program of the Southwest Fisheries Science Center, Honolulu Laboratory, National Marine Fisheries Service.
The custom-built cameras to be used by SeeMore Wildlife Systems for the Hawaiian SeaTurtleCam will have pan, tilt, zoom, and audio capabilities. Powered by small solar-charged storage batteries, microwave signals of the images will be relayed to SeeMore Wildlife servers from remote sites using environmentally-friendly compact transmitters and antennas. All camera functions, including windshield washer and wiper to clear salt spray, will be remotely controlled with easily used web browser software. Images will be obtained as 80 Kbs full-stream video, or programmable as time-lapse tapes.
SYMPOSIUM POSTNOTE
The various conceptual elements of the Hawaiian SeaTurtleCam System, as described above, were illustrated in our poster paper at the Twentieth Symposium on Sea Turtle Biology and Conservation. On April 7, 2000, following the symposium, two cameras (given the Hawaiian names of "Mele" and "Maka") were installed at Turtle Lagoon with a microwave link 33 km to the Hawaii Preparatory Academy (Photos 1 and 2). The units became operational on a limited-entry basis the following day (April 8) providing continuous images to the SeeMore Wildlife Systems website at www.seemorewildlife.com. On April 19th full-stream images of basking turtles on a daily basis were made available at this website for unrestricted free worldwide viewing. Hence, the first component of the multifaceted Hawaiian SeaTurtleCam System has been accomplished as planned.
PHOTOS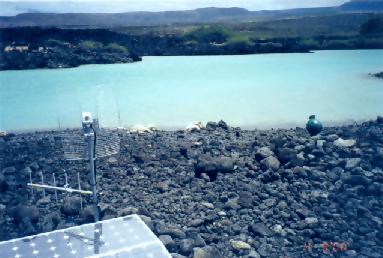 Photo 1. The world's first SeaTurtleCam installed at Turtle Lagoon providing real-time remote video mages of basking green turtles to the World Wide Web www.seemorewildlife.com). The SeeMore Wildlife camera named "Maka" (eye in Hawaiian) is located on the right. A small transmitter and other electronics are entirely concealed under the rocks.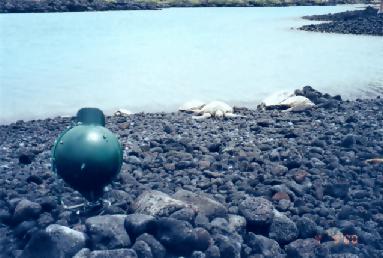 Photo 2. Close-up of the SeeMore Wildlife video camera named "Mele" (song in Hawaiian). Five basking green turtles rest on the rocks, at Turtle Lagoon, unaware of their global exposure as Hawaiian Ambassadors for their species.
---

Amazing Hawaiian SeaTurtleCam

Table of Contents
Last modified 00/05/27
Send comments or corrections to honu@turtles.org